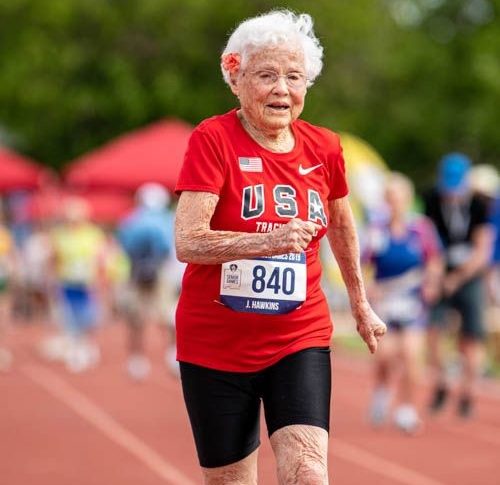 Enjoy the Inspiring Wisdom of the 103-Year-Old Belle of the National Senior Games
By now you might have heard about Julia "Hurricane" Hawkins, the 103-year-old superstar of the recent National Senior Games.
She won gold in the 100-meter dash and the 50-meter dash. She was essentially competing against herself, but that didn't matter to her, observers, or national media.
In fact, Julia became the face of the National Senior Games on TV and in magazines and newspapers across the country. It's easy to see why. Not only are her physical abilities inspiring, but she brings a gentle wisdom and determination to enjoy life at every stage. Here are a few highlights from Julia.
"As you get older, you need challenges. You need passions. I think you need to have a lot of passions because they keep you alive and they keep you alert." – The Albuquerque Journal
"I hope I'm inspiring (others) to be healthy and to realize you can still be doing it at this kind of an age." – KRQE-TV
"I just keep busy. I keep moving. I don't do any exercises particularly. I used to, but I don't think I need to anymore." – Good Morning America
"You can still do things when you get older. Just keep moving and be interested in things." The Today Show
She told the New York Times she enjoys books on tape, since she's having trouble with her eyes. She stays busy gardening, and enjoys lunch out with friends almost every day. She added:
"Keep yourself in good shape if you can. Have many passions. And look for magic moments. That is something that I have done in my life — think of the things that are magic moments that happen to you, like sunsets and sunrises, rainbows, beautiful birds, music and people's lovely comments to you. All of those are magic moments and they are free for all. Be sure to keep your eye open for them."
Thank you for the reminder, Hurricane.