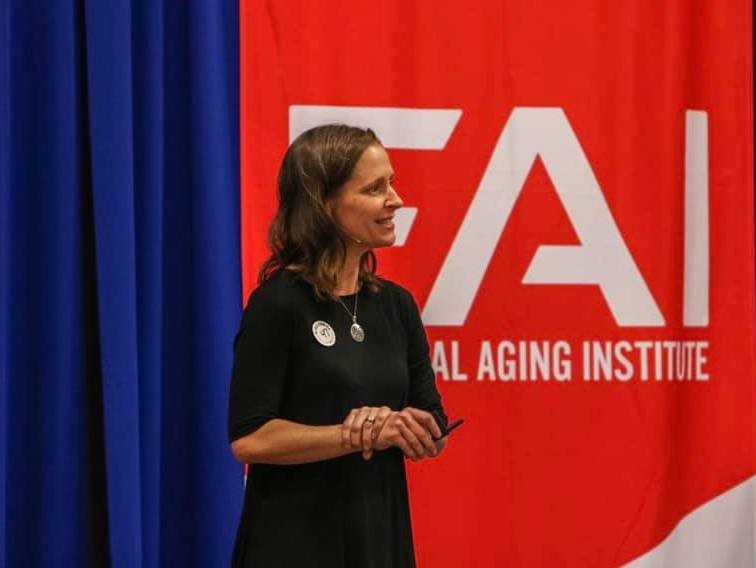 Be Bold, Claim Old: Fighting Ageism Starts with Ourselves
The power of mindfulness and positive thinking can't be overestimated when it comes to living a long, healthy life.
Negative perspectives on aging can cut 7.5 years off your life. And instead of being bummed out about lost youth or worried about what might happen later, we should celebrate every age of life.
That was the main message of Amy Gorely, the closing keynote speaker at the Functional Aging Summit in Albuquerque.
Be Bold, Claim Old
"Be Bold, Claim Old" is Amy's national campaign to raise awareness about ageism. Amy is an advocate for the "age positive" movement and wants to spur discussion about the negative impacts of aging and how to fight it. She is director of community relations at Carolina Meadows, a continuing care retirement community in Chapel Hill, North Carolina.
She urged FAS attendees to go home and work to "inspire a culture that empowers all ages," rather than merely glorifying the young.
"If you live long enough, ageism will affect you. Aging is universal. It's a human condition," she said. "It's in everyone's best interest to care about how we view aging."
Yet ageism remains a socially acceptable prejudice, in ways that can seem harmless – like "funny" birthday cards implying we're over-the-hill at 30, or "complimenting" someone by saying, "You look great for your age."
Good for the Body and the Mind
The truth is much more encouraging. Amy cited studies that show life satisfaction increases with age for most people. While many of us fear losing our memories, just 10 percent of people over 65 get Alzheimer's disease. And the parts of the brain responsible for knowledge and wisdom continue to grow as we age.
"What's good for the body is also good for the mind," she said.
When we see intolerance of aging, we need to confront it with tolerance, kindness and humor, she advised. "The change in tolerance is going to take all of us, every single generation."
By embracing every age, we can feel better about aging ourselves – and help others feel better about it, too. 'Plant the seeds of awareness within yourself, your clients, and the culture wherever you are."
Summit Presentations Available Online
Amy's "Be Bold, Claim Old" speech is available to FAI members online, as are all the other summit presentations. Other summit highlights you can see include:
Opening keynote speaker Marc Middleton of Growing Bolder, "Launchpad to What's Next"
Evelyn Flaharty on "Defying Age from the Boardroom to the Stage"
Marketing guru Jeff Weiss on "Muck the Fillennials"
FAI's Dr. Dan Ritchie on "Designing Small Group Training with 3-4 Functional Levels in Mind."
FAI's Cody Sipe on "Senior Strength – a scientific update and the movements
Just go to FAIEducation.com for these and many more valuable videos.