Nobody does functional training for older adults better than FAI. The core of the FAI approach is the FUNCTIONAL AGING Training Model (FATM) which is built around the widely recognized theory of function called the Modified Disablement Model (used by the World Health Organization). We add to this the latest scientific evidence and our 20+ years of experience with adults of all abilities to create a safe and effective training methodology.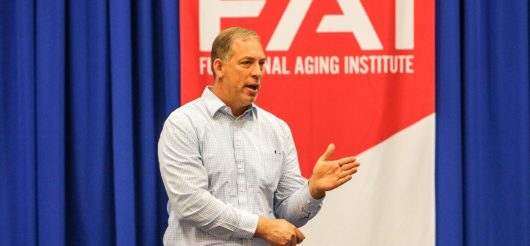 Increase your revenues, profitability and impact by growing your business with the active aging population. If you want to earn your first six figures or grow your business to seven we can provide you with the marketing, sales and retention strategies you need to attract and retain mature clients.
We think training older clients is the most challenging, interesting and satisfying opportunity for any fitness professional. In fact, we love it so much that is ALL we do. We are the world-class leaders in training older adults and our unique, evidence-based approach to exercise can help you improve functional outcomes with all of your mature clients.
Our online digital education platform allows you to learn at home, work or on-the-go at your convenience and at your pace. Each course is optimized for mobile devices such as smart phones and iPads. In-depth text, practical videos and narrated PowerPoint all help to communicate the material in a student-friendly manner.
become part of the community
Get access to over 60 top minds in our field like Dr. Evan Osar, Dr. Emily Splichal, Marc Middleton, Dr. Katharine Forth, Guy Andrews, and Dianne Bailey! If you find it beneficial (and we think you will!), it's $99/year for an FAI Membership and counts towards your FAI continuing education. Try it out for 14 days and gain access to hundreds of hours of valuable education for fitness professionals and business owners
Events are held throughout the year across the United States to help build knowledge across all spectrums of active aging.